Custom Swimming Pool Enclosures | Pool Enclosures Etc.
Watch the seasons pass under the shelter of your own custom designed Swimming Pool Enclosure...
Use your Swimming Pool or Spa when YOU want to! Enclose your Swimming Pool and or Spa with the Innovations we provide in a Custom Enclosure made just for your pool or spa. Enjoy hours and hours of using your pool instead of cleaning it! Our advanced Solar systems offer Innovations like thermally broken frames, Double and Triple Insulated windows and doors, many specialty glass types, Retractable Roof Systems and Folding Glass Walls and Doors to keep you and your family enjoying your pool or spa even when the weather outside is not so amiable.
Design, Innovations and Quality Construction make Greenhouses, Etc. the Nations leading supplier of Solar Swimming Pool and Spa Enclosures, both large and small across the USA.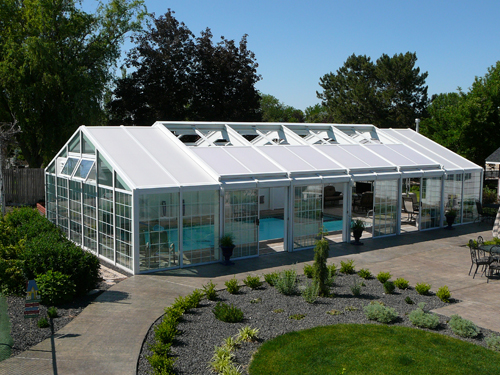 We use Advanced Materials like a non-corrosive aluminum framework and stainless steel fasteners which make our enclosures truly stand the test of time in the highest humidity and the harshest of chemical filled environments of Swimming Pool or Spa Enclosed environments.
Enhancing efficiancy, our custom Ridge Vents, Retractable Roof Panels, Sliding or Folding Doors and Windows provide simple Innovations in Solar energy efficient and environmentally frendly ventilation. We also have the most advanced climate control systems available. Our advanced systems are designed to let the air pass through when you want it to and stop ALL leaks and air infiltration when you don't!
We offer the most advanced Solar glazing options with Innovations in Double or even Triple pane insulated safety glass to satisfy even the most descriminating of clients. We also have State of the Art Innovations in Polycarbonate Glazing with incredible insulation and Solar properties. p>
As we mentioned before, our Innovations in Designing and Building Custom Structures lets us build anything you can draw. We can also paint the frame any color you desire! Our Custom Designed systems are priced comparably to our competitors' standard sizes and offerings - NO UPCHARGE for CUSTOM STRUCTURES! We can meet any wind or snow load requirement. These Innovations combined with an outstanding warranty on all extruded parts, makes Greenhouses, Etc. THE smart choice when choosing your Solar Swimmimg Pool or Spa enclosure.
Please feel free to call us directly to discuss your plans or send us an email. We will be happy to discuss your project. Pricing upon request. We can make anything, if it can be drawn, we can make it!!! (888) 244-8009
Call us today at 888-244-8009 or fill out our online contact form.