Folding Glass Walls | Pool Enclosures Etc.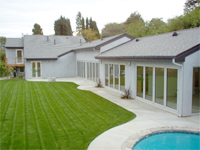 Open up your home or business with an opening folding glass wall system. Our custom designed door and wall products allow consumers to open up any space to large unobstructed views. Used in both commercial and residential applications, Our folding glass walls have been incorporated into pool enclosures and cabanas, covered patios and porches, restaurants, retirement community homes, sports stadiums, athletic arenas, hotels, and golf clubs and resorts. Our doors will enhance any indoor/outdoor living space. Please contact us for additional information and guidance on purchasing a folding glass wall system for your home or commercial location, our knowledgeable staff will help you through the entire process, even installation. Call us and let's get started now. 888-244-8009.

Call us today at 888-244-8009 or fill out our online contact form.